I've had a number of people ask me for more detail than what's in my bio on this site: how did I lose the weight? What did I do specifically? What was the magic recipe?
First of all…it took me a little over a year to do. I was not on the Biggest Loser, I had no trainers, I had no books, no coaches, no manuals…nada. The most amount of support and training I got was when eDiets first came out, and they allowed me to log my meals, have a fitness plan, etc. That's when I first REALLY learned how to eat.
I started out the first month cooking for myself, which helped me to shed weight right there. After that, I decided to give a modified version of Atkins a try: I eliminated bread, pasta, potatoes, corn, and fruit. With the caveat that this was years before I went vegan, I cooked tomatoes in garlic with cheese, I ate grilled chicken, and I gave veggie burgers a try once I saw how much less fat and calories they had than the standard burger. I also made stir frys with lots of veggies. Afterward I slowly began adding on the GOOD carbs: whole wheat pasta, multigrain and whole wheat bread, potatoes, etc. I avoided refined sugar, white flour, soda, sugary drinks, and HFCS. Heck I was avoiding that crap before it became trendy! I also ate convenience diet foods like Lean Cuisine and Smart Ones, being careful to pay attention to calories, fat, and sodium. I gave no fucks on the amount of carbs in each meal; I just looked for a good balance of nutrients. And lastly–this is part is the most important–I DID NOT STARVE MYSELF. I cannot emphasis this enough.
I didn't work out for the first half of the weight loss. In some ways, this was good: I needed to get my diet on point and figure out how to eat before I started to figure out what the heck to do with myself in the gym. I never, ever knew how to eat and it's a good chunk of what cost me in college, that and gaining so many food intolerances. During the last half of the weight loss, I began working out in my apartment complex's gym room. It was open 24/7, and it cost me a nominal fee for the key to the room. One of the best perks of that place ever! I really do miss it sometimes, and have been slowly building up my own home gym to help out. I also began taking yoga and aerobics classes at work.
Keeping motivated for an entire year of watching what I ate and working out was sometimes challenging. I succeeded because I didn't deprive myself. I made compromises on occasion, keeping those occasions infrequent: when I went out to eat, I would get a slice of pizza and a salad. I ate Smart Ones desserts. I figured out that lite cool whip and strawberries was delicious (I recommend rice whip for that now!), and made substitutions when I could. I sliced potatoes and baked them with garlic and a bit of EVOO instead of eating fries. When I went out to eat, I figured out what I could order on the menu that wasn't fried, coated with either a ton of cheese or some form of dairy, etc. I had salads and soups before my meals, making sure that the dressing was on the side and usually some form of vinaigrette.
The reminders had to be there too. Thinking about wearing a two piece for the first time in my life helped. Knowing how fed up I was of not being able to wear the clothing I wanted, and the frustration of not even being able to fit into a size 14 also helped. I'm all of 5'4″, I have a small bone structure–I had to have had a LOT of fat on me to be that heavy. It sucked. I basically dug my heels in and got good and stubborn about changing my life, and no one could get that stubborn for me but me.
I'll also add what didn't help: fat shaming from people around me  just made me feel worse. It didn't make me want to lose the weight more; it just made me feel like a fat failure. On more than one occasion someone who thought that they were being "well-intentioned and concerned" was mean enough to drive me to tears. It's like people think they have to tell you that you're fat. Trust me, when you are–you KNOW. I had no delusions about my size. I was harassed and followed on the street, and screamed obscenities at for having the audacity to be out in public while female and fat. This is why I aim to be 100% body positive. You will never, ever see me using being "fat" as a motivation for working out, use body shaming to try and get people motivated, or any form of negativity as a means of getting people into gear. Instead I talk about being on "Team Happy & Healthy", feeling good, etc. Positive thinking gets positive results, and you cannot hate yourself into a better version of you.
I had so much weight to lose that I tried and failed a number of times to lose the weight, not realizing that I wasn't succeeding because I wasn't sticking with it. I wasn't going to get thin overnight, and I had to be patient. Getting over that hump right there helped me out a lot. This is why I blog a lot about making small changes, especially if you have a big goal in mind. Those big goals can look awfully overwhelming, and you are best breaking those up into chunks or milestones to get through. Small victories over time paid off for me. You don't need to make drastic changes to have drastic results, although the bigger the goal, the more likely you will need to overhaul your lifestyle in the long run. Ultimately, the changes you make must be ones you can maintain in the long run, not for a quick fix.
Pictures of me before and after the 100+ lb weight loss:
Years later when I got cocky, had too much personal stress, and got inactive, I started to gain some of it back. I got photos back from a vacation with friends, and had flashbacks to days back at college and how I felt and looked. I had no idea I had gotten that heavy, and it hurt. All of that hard work, out the window. Gone. I also was painfully aware that my finances are in a severe crunch and I couldn't afford to take all of the classes that had kept me so lean in the past. I needed something which would help me to lose weight AND help out with the money issues. That's when I found Team Beachbody and became a fitness coach.
Here are pictures of me before Beachbody, and ones taken recently: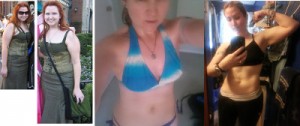 Really the most important thing that happened to me as a result of the weight loss was this: it gave me the knowledge and experience to know that I had and have the power to change myself and my life at any given point in time. It's empowering, it's uplifting, it's downright magical. It's about having the will and the drive to make a dramatic, positive difference in your life. If I can help at least one person to achieve that and steer them towards whatever will help them to do that, I will have done something awesome with what I've gained.
If you are not happy where you're at for whatever reason and are looking to get healthy, lose weight, gain weight, gain muscle, run a 5K–whatever it is–feel free to reach out to me and make me your fitness coach. This is a labor of love, and hopefully this lengthy post will explain why. 🙂 Now you know my story.