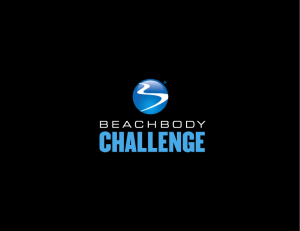 I have a new 90 day fitness challenge starting on Jan 7th!
What does this fitness challenge entail? Well, here's the list:
 Free one on one fitness coaching
 A small, private group on Facebook where support, motivation,and comfort will be given, and effort rewarded. People will share tips, accountability, and results
Commitment to your chosen health and fitness goals
Staying in touch both with me as your coach and with the members in the group
Access to the Beachbody Challenge contest where you will be eligible to win $500 daily and over $100,000 for sharing your results!
Challenge packs are available which include one workout program, a 30 day supply of Shakeology with your choice of flavor, and a 30 day free trial to Team Beachbody. It's a great way to get into shape, improve your diet, and pinch your pennies. The packs come with a 30 day money back guarantee.
Together we will bring on the New Year in STYLE! Join me and get all of the help you'll need on how to achieve your goals  and live a happy, fulfilling life!
Spaces are limited, so if you're interested contact me! For more information, please visit this link.