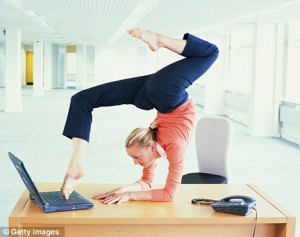 It's been published a lot lately that the longer you spend sitting down during your day, the more years are being taken off of your life. While this sounds utterly morbid and depressing, it's not entirely out of your control.
A lot of us work 9-5 jobs sitting at desks, but we don't all have to suffer from unnecessary weight gain and health issues as a result. Exercise and fitness is something a lot of people put off. In Stephen R Covey's 7 Habits of Highly Effective People, he breaks up daily tasks into different quadrants: urgent and important, urgent and not important, not urgent but important, and neither urgent nor important.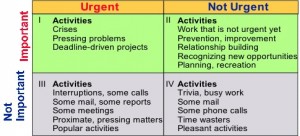 Exercise falls into quadrant two, "not urgent but important". If you spend more time dealing with tasks that fit this category, you can prevent them from turning into "urgent and important" later. This should be common sense, but often times people confuse what is not important but urgent with what is important but not urgent. I highly recommend this book; it's one of the best ones out there for getting your life into gear not matter what the topic.
"I don't have time to workout."
"I don't have time at work to get up and stretch."
"I don't have time to eat healthy."
…yes, yes, you do.
Here are my suggestions to combat the 9-5 "desk death":
Get your clean eating habits in gear. Too many offices surround themselves with junk food, and often the trap becomes that food is social. You don't have to not be social, just be mindful of what you're putting into your body.
Get up and walk around whenever you can. Grab water, grab tea. Will it mean more bathroom trips? Sure, but it beats not moving around much of the day and if you wear a Fitbit or Bodymedia device you WILL see the difference. When you walk, you burn 4-5 times more calories than sitting. When you stand, you burn twice as much as when sitting.
Do office workouts. There are lots of exercises you can do at your desk.
Go out for walks during your lunch break. Try to organize walks with other co-workers, if you can.
Stretch. Many of us have bad backs due to being slumped over at a keyboard all the time. Exercising and stretching has helped mine, and I am often working at my stiff neck and shoulders to prevent injury.
Park further away from the office and walk. Take public transportation whenever possible to maximize walking versus driving.
Take the stairs instead of the elevator.
Get creative! Do squats in the bathroom stall. I do them, no joke!
And that's the key–prevention. Too often people wait until there's a visible sign of a problem in order to do something about their health. Fitting into clothing is one thing, but injuries and illnesses are another. Join up with Team Happy and Healthy and beat the 9-5 "desk death"!
Need additional help with your goals? Free fitness coaching is just a click away.