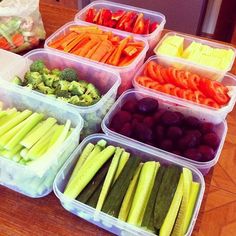 We all lead busy lives, most of us running around in the morning trying to get ready for work feeding pets, kids, selves, getting dressed, maybe squeezing in a workout, a shower…it all adds up. I've found that the best way to eat healthy on a regular basis AND save time is to have containers of food prepped that I can grab, mix and match, and have an instant meal. It also saves me time and money. Examples:
Salads bagged or in plastic containers. I get Olivia's Organic Spring Mix with Herbs and put a paper towel on the bottom and around the lettuce so it stays fresh longer. I grab it and add it to sandwiches, wraps, or make side salads.
Bags of shredded carrots. Makes for extra flavor in wraps, sandwiches, and salads.
Sliced cucumbers! Great snacks, additions to salads and wraps, just grab and go. Same with carrots and celery.
Lean proteins cooked in advance and in tupperware containers or plastic baggies. I do this for veggie burgers, baked tofu, etc.
Cook foods like brown rice and quinoa in bulk, then add to meals later.
If you have a slow cooker, take advantage and make all sorts of soups, stews, etc.
For quick snacks on the go, smoothies, meal replacement and protein drinks are great! Just be mindful that not all protein powders and meal supplements are created equal, and a lot of them have unhealthy junk and fillers. Of all of them, my favorites and by far the healthiest are Shakeology, Vega, and Plant Fusion. I use a shaker cup and some chocolate vegan Shakeology, and instantly I get my chocolate fix too. 🙂
Consider buying containers that are pre-measured so you know how many servings of any one item is in any container. This is especially good for calorically dense foods such as quinoa, brown rice, potatoes, beans, lentils, etc. I purchased some on OpenSky recently.
Buy special containers for soups and salads. This container is in my collection and I also recommend this one.
Embrace leftovers! They make for great lunches later, dinners too.
Need additional help with your fitness goals? I'm just a click away.