Shaun T has two of his popular programs on sale in the challenge packs, but the sale ends tomorrow (June 30th)! The packs include the workout, Shakeology to get you started on the right path to great nutrition, and a 30 day trial club membership to Team Beachbody!
I can't emphasize enough what a fantastic thing Shakeology is, especially for busy people looking to get the maximum amount of nutrients into their system. Also…extremely tasty. 😀
The two challenge packs on sale are:
INSANITY: http://www.teambeachbody.com/shop/-/shopping/BCPSAN205?referringRepId=38957
and
Dance challenge pack (Rocking Body and Hip Hop Abs):  http://www.teambeachbody.com/shop/-/shopping/BCPRB160?referringRepId=38957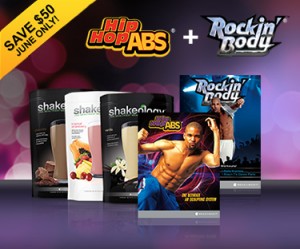 If you're the sort of person who loves a challenge and to continually get great results on a fantastic cardio program, I highly recommend INSANITY. If you're more of the type who enjoys dance cardio programs like Zumba, you should definitely give the dance pack a try.
Both challenge packs have money back guarantees, so if you don't like them, you can return them – no questions asked.
Questions? Need more info! Contact me ASAP.